Because AI is virtually applicable in every scenario, there are many ways in which it can help streamline your business processes. Business owners can use AI to accelerate processes, simplify operations, or increase the profitability of businesses. AI can also do tedious tasks and automate work routines, which is more helpful to small-business owners.
By using AI to do all these different tasks, businesses are improving their ability to make better decisions, which comes with better, more accurate data. Incorporating AI into the processes of businesses also helps improve decision-making. Companies can leverage AI not just to produce better content but to improve the likelihood of a prospective customer buying from them.
Companies using natural language processing can also enhance customer experience by pairing a chatbot with an intelligent assistant. Businesses that are tight on budget or do not have dedicated customer support teams can deploy AI-enabled chatbots to close the customer service gaps. With the help of AI, companies can enhance the customer experience, increase employees' productivity, automate workflows, and design intelligent agents that can assist in many repeating business processes.
AI capabilities are built into the software, which companies can leverage to improve at the customer-centric level. Companies use AI to enhance marketing, sales, customer relationships, and communications.
Big data businesses are on the front lines of using AI to enhance their business processes. Big data businesses have been at the forefront of using AI to improve business processes. By helping you analyze data about your business, AI can inform where you can reduce costs and increase your effectiveness, like the bottlenecks in your operations. AI is also used for customer insights that provide companies with competitive advantages.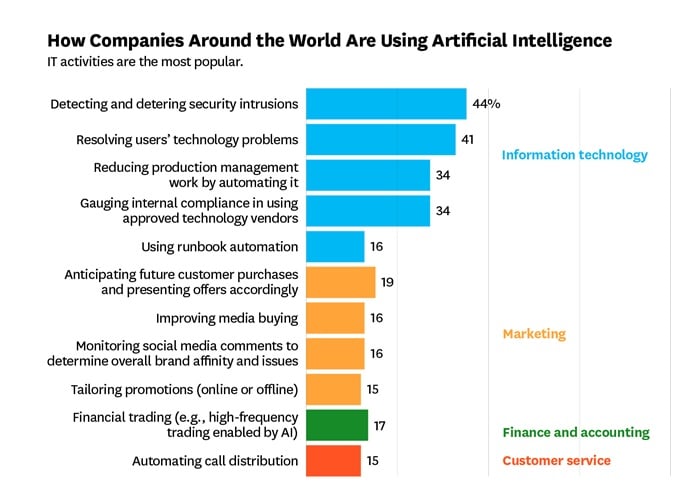 Many businesses are adopting AI (Artificial Intelligence) technologies to cut operating costs, increase efficiency, grow revenues, and enhance the customer experience. AI is a powerful new category of technology that has the potential to change how your business works and increase your bottom line. With its ability to learn from data and transform it over time, it is seen as one of the most powerful solutions to drive business processes and make autonomous decisions. For all of the alarmist predictions of Artificial Intelligence and the way that robots will take over humans' jobs in the foreseeable future, nobody can deny AI's immense role in the business since it is increasingly showing itself as more of an enabler than a disruptor.
AI is spurring many innovative business opportunities, providing new business models, and changing how businesses work. Predictive Intelligence has the potential to help companies connect with customers in authentic, meaningful ways. AI can also help automate parts of the work process, freeing you and your employees from laborious tasks. When AI and machine learning are integrated with technology such as RPA, which automates repetitive, rule-based tasks, the combination not only speeds processes up and decreases errors, it can be trained to better itself and tackle more comprehensive studies.