One of the most important aspects of having your own website is that you can sell directly to your website's visitors and customers. Having your own website makes branding easier and more reliable because you have a specific, well-defined, and targeted online presence for targeted customers.
Having an online presence allows your business to offer a wealth of data about the products and services you offer to your customers. Developing an online presence can help you better understand your market so you can bring new and innovative products to them and promote your store in that area. Diversifying your online sales destinations can help you attract new customers, especially as e-commerce becomes more competitive.
Starting an online store now will give you a competitive edge over those who have yet to master the world of e-commerce, in an age where customers are constantly looking for the fastest and easiest way to buy what they need while maintaining an active lifestyle.
If you run a store, you can use eCommerce to adopt a hybrid strategy to allow your customers to shop online and in store. For example, you can allow customers to buy items online or pick them up in-store. With the rise of e-commerce, you can now sell to more customers in a variety of ways. As a seller with an e-commerce site, you can tell your customers about your business, showcase your products, and make payments online.
Having an e-commerce website will give you the ability to offer your products and services to customers all over the world, regardless of distance or time zone. If you run a physical store, it will be limited to the geographic area you can serve, but owning an eCommerce website will give you the opportunity to increase your reach. Having an e-commerce store can be used to expand the range of products/services to sell, expand your business, provide you with more personalization, and diversify your sales. Having an e-commerce website also offers an easy way to collect important data that you can use to delight customers and increase sales.
Adding an e-commerce site to your multi-channel strategy can also increase your sales by attracting customers who start looking online. An e-commerce website will also help you expand your product offering faster than an offline business. You can gain product visibility through an e-commerce website, which means your business can attract new customers at any time of the day. Selling through your website gives you more opportunities to create new customer touchpoints and repeat business because you can make your eCommerce store a source of customer satisfaction and value.
E-commerce websites allow you to use a range of marketing and sales techniques to give people another reason to stay on your website and buy your products. Ecommerce Helps Companies Go Global An eCommerce website allows a business to reach more customers for sales and marketing. An e-commerce website gives you the ability to market your business more effectively using integrated marketing tools such as selling Square Online Store gift cards that can be used online and in person.
Your business may have started in farmers' markets, pop-ups, or even a physical store, but you need an e-commerce website to support and grow it. Even if you have a physical business that primarily caters to local customers, your business can still benefit from a website. With eCommerce, you don't need to have more than one branch, just one unique online store is enough that allows you to fully reach customers without worrying about moving, you can simply run your online business from home.
With 24/7 quality products and online customer service, blogging, and social media, your business is no longer a store, with an online presence, your business can be your product home and a shared headquarters for your business. You can fully expand your product range without worrying about moving or not being able to expand your business. Running an online store means you can capitalize on your busy life by providing customers with the products they want when they need them. Having an online store gives you 24/7 global access, so potential customers can buy your products anytime. Even outside of business hours, customers can log on to your website and use your services or get the information they need, which is one of the key elements of a website's importance to a business.
Your website gives the consumer what they need to know about the product, makes the sale, and collects payment information online. Your website acts as a "home base" where you can send customers when they want to make a purchase or learn more about a particular product or service you offer. In addition to selling your products and services online, you can provide consumers with the information they need to make an informed buying decision.
Essentially, e-commerce helps you create a brand image for yourself online so that customers can learn more about your company's offerings and services and make it easier for them to differentiate between different brands and purchase their desired product. Online selling allows you to get first-hand data by tracking how customers interact with your website.
For example, if your business is primarily service-based, you can supplement your local offerings with products that people can buy from you online, such as a hair salon that offers specialty accessories.
Owning your own store opens up many touchpoints for customers to connect with your eCommerce business. You can offer shoppers an in-store pickup option and actively engage with shoppers in ways that eCommerce platforms would never allow or support. E-commerce offers a range of opportunities for businesses, from marketing opportunities to expanding product lines and increasing sales, and with an optimized and well-designed website, you can not only achieve these goals, but also provide your customers with a convenient 24/7 service that can boost your business. . Your store can gain credibility in large markets with a huge customer base, but once you've reached a certain level, it's time to build your website.
Also check our previous blogs about;
What is Content Management System and How to use it?
Top Reasons To Use WordPress For Your Website
What Is SEO? Search Engine Optimization Explained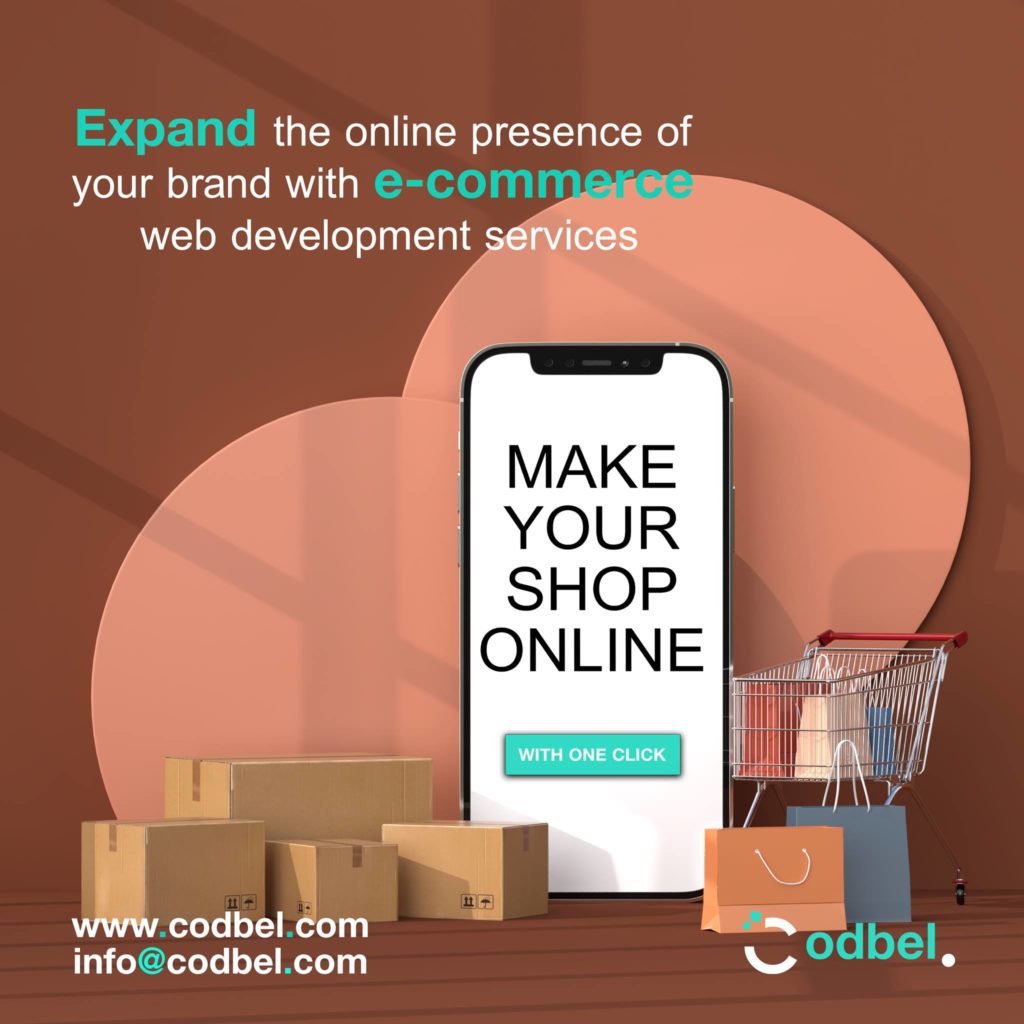 Codbel offers brand e-commerce that helps to manage your online shopping experience.
Expand the online presence of your brand with e-commerce web development services